There's a reason Facebook is so popular. It's the faces. We may be staring at screens as we connect over the internet, but we're humans staring at screens where we want to see other humans. Whether Facebook, your website, or the front door of your business, it's important to be human.
This does not mean you need to litter your website or social media with selfies (though smiling faces do equal likes.) Being human on the web means writing with voice, highlighting the people behind the company, making visitors feel welcome.
Come In, We're Awesome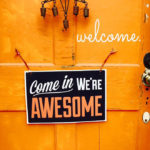 The awesome proprietress of The Orange Cat Cafe in Kingfield, Maine thinks she "sucks" at marketing. Yet, Morgan's voice and the cafe's fun-loving, off-beat personality comes through in every element of the Cat's web presence (in real life too!)
From the sign on the door to the menu to Facebook posts, the Orange Cat welcomes customers with love, kindness, and snark. The marketing makes clear that they care about the food they're serving you. Quality branding by being good humans!
While the Orange Cat's website may violate KISS design principles, have outdated info, and ignore SEO basics, the website clearly portrays the personality of the cafe:
Copyright 2012 Orange Cat Cafe, LLC. No animals were harmed in the making of this website.
So it's 2020, as long as the Cat is cruelty-free we're good.
In a recent Facebook post, Morgan shows all the elements that make her a not-sucky marketer, and a total pro at extending the welcome mat. Every year Patrick Dempsey drives by the cafe on way to the Sugarloaf Charity Summit. What does it take to get him to brake for a sandwich?
Networking with most popular landmark in the area, Sugarloaf Mountain? Check. Giving back to the community with a charitable donation? Check. Luscious display of baked goods? Check. Handsome face? Check. Call to action? Check.
So Patrick Dempsey hasn't stopped to visit the Cat yet (seriously, McDreamy, why not?!) But 70+ likes, loves, and hahas, topped with comments and shares is some damn good bringing together of the Orange Cat community. And the warm welcome did work on local celebrity Donald Tranten…
The success of the Orange Cat Cafe has more to do with the quality of food than the quality of the marketing. But if you want an example of community building online and in real life, look to the Cat. Congrats on 17 years of awesomeness, Morgan and family!
Full disclosure, Chaos Unlimited once lived in an office upstairs at the Orange Cat. The cafe is where I made nearly every Maine friend I have. I love the place and the people. I know many of you do too. Post your love notes below!